23 Nov, 2020
Klingerka becomes Slovakia's tallest residential building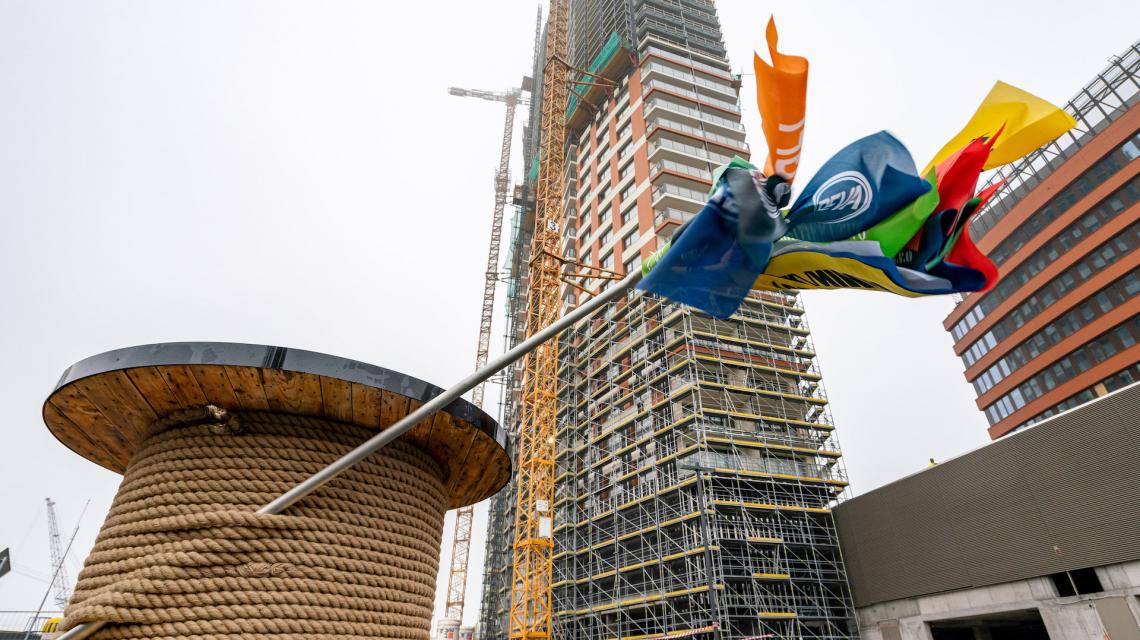 Another benchmark project by developer J&T REAL ESTATE (JTRE) has reached its highest point after just twenty months of construction – and at 115 meters is officially the tallest residential building in Slovakia. KLINGERKA - which has utilised innovative building techniques - has proven a very attractive place to live with most apartments already sold.
KLINGERKA celebrated this towering milestone in the traditional way – with a rather non-traditional topping-out at the building's highest point. The stunning 36 above-ground floors were built at a rate of one floor every 10 days – which is a remarkable achievement for a building of such scale in terms of project management, material supply, and utilised technology.
KLINGERKA's topping out - and façade - reference the area's famous jute factory history. A crane took 10 minutes to lift the almost two-meter replica thread spool with needle onto the roof, from which multicoloured ribbons with contracted building suppliers' names proudly flies.
The construction of Slovakia's currently tallest residential building was completed by general contractor STRABAG Pozemné a inžinierske staviteľstvo s.r.o. on schedule, despite KLINGERKA's unique technical demands and construction requirements. "Colleagues working alongside suppliers often had to develop and tailor completely new products. These prototypes after testing were then used for the first time on this benchmark building," explains Pavel Pelikán, JTRE's executive director.
Of such innovations, the most visible is the "levitating scaffolding" that seemingly floats around the building's upper part. "The building's shape and height precluded using conventional scaffolding, since its weight and anchoring would have hindered façade installation," says Peter Medľa, JTRE project manager. And that's why Marek Rura (JTRE construction expert), scaffolding supplier PERI spol. s.r.o., and façade supplier H & O Construktion joined forces to design an atypical suspended footbridge solution anchored to formwork points. This visionary procedure used on KLINGERKA had never been used before in Slovakia, and its main benefit was to modify building paved surfaces and immediate surroundings that a standard approach could not achieve. Other innovations include a steel-aluminum system of glass railings for balconies, and a wind-driven rain-resistant ventilation flap with self-regulating closing mechanism to ensure interior comfort.
KLINGERKA's completion will soon reinvigorate the former brownfield site with an emphasis on project quality, sophisticated layouts and lively neighbourhood. The concept is designed as two lenticular buildings - apartment tower and administrative building - connected by an above-ground car park with grassed roof. This coupled with a large park which is perfect for walks, kids' play area, and meeting friends will significantly upgrade the urban environment. The central area will be complemented by all necessary civic services and amenities on the ground floor.
GFI architectural studio envisioned the 36-storey residential tower on the plot's eastern side to ensure future apartment owners have stunning views. The 11-floor office building creates a smooth transition to the existing area of older Klinger-area family houses, with the intervening park in the northern part creating a welcome division.
This project and associated stages will attractively complement the capital city's panorama with high visibility and recognition. As the Klingerka project is also planned to continue along Košická Street in incrementally lower building heights, this unique residential project will become a true landmark at a busy city thoroughfare.
KLINGERKA residential building:
115 meters
36 above-ground floors
380 two- to four-room apartments
376 balconies
5 lifts
663 stairwell steps from car park to 35th floor
678 parking spaces
425 m2 retail space
6,300 m2 greenery (park + car park's grassy roof)
2022 year of completion
Construction:
169 piles
2,832 tonnes of reinforcement
19 152 m3 concrete volume
1.5 - 2 m base plate thickness
16,800 m2 total facade area
7 032 m2 total glazed area
300 km electrical cables