24 Oct, 2023
JTRE London's debut projects - Triptych Bankside and Appleby Blue - completed & awarded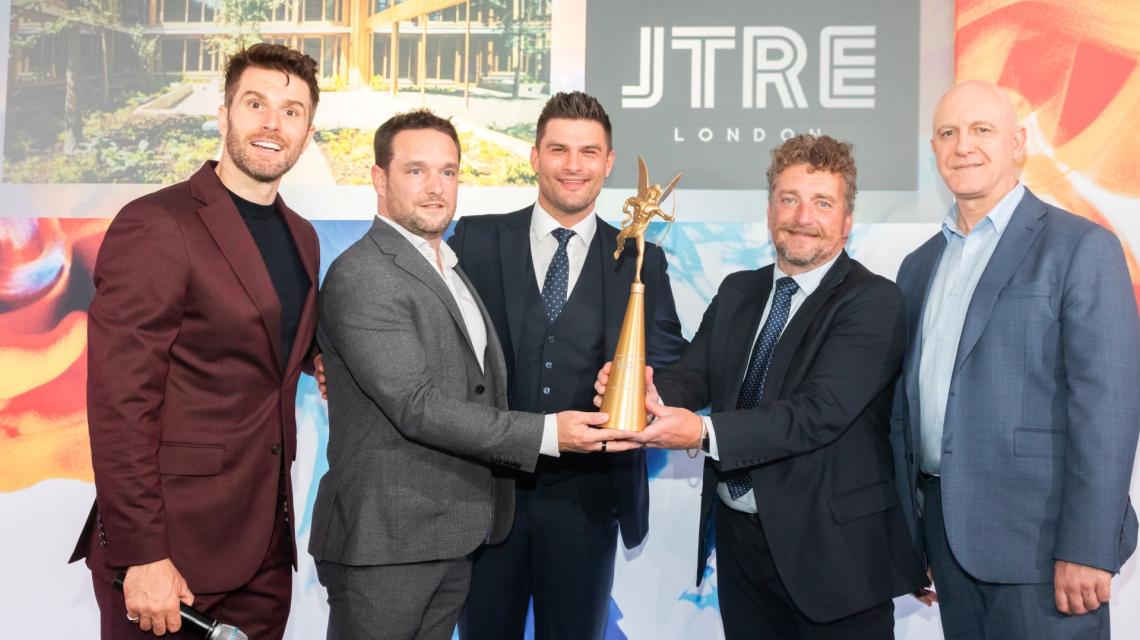 JTRE London has announced the completion of its first two projects, less than four years since its London branch opened and amidst demanding market conditions. Multi-functional Triptych Bankside and Appleby Blue senior housing have already won seven prestigious awards, and more accolades are in the pipeline.
Property experts and the media have referred to Triptych Bankside as "London's fastest selling prime riverside development". Apartment sales recently passed the £200 million mark, and the office part has already been fully leased to leading commercial tenants. Appleby Blue has been described as "setting a new benchmark for older people's housing, highly improving the quality of their lives by creating a thriving and supportive community."
JTRE London received five awards at the 32nd edition of The Evening Standard New Homes Awards,  the most prestigious awards dedicated exclusively to London developments, which celebrate innovation and excellence in today's new homes. Triptych Bankside enjoyed success in these categories: Best Luxury Home, Best Apartment and Development of Outstanding Architectural Merit. Appleby Blue won the Best Retirement Development award and the overall Grand Prix, the crowning award given to the most outstanding project across all categories.
Triptych Bankside is a finalist in November's Housebuilder Awards in the category Best design for four- storeys or more, as well as the What House Awards (the "Oscars of the housebuilding industry") with nominations in the Best Apartment, Best Exterior Design and Best Luxury Development categories.
JTRE London began celebrating its impressive success a year ago at the 29th United Kingdom Property Awards (part of The International Property Awards, the largest, most prestigious, and widely recognised ceremony in the world): an independent expert jury awarded Triptych Bankside in the Residential Interior Apartment category and gave 5-stars award in the Best Mixed-use Development category. Triptych Bankside was also a Development of the Year finalist at the British HomesAwards.
"We are delighted with the great acknowledgement of the hard work of everyone at JTRE London over the past turbulent years. From the Design team through to the Delivery team and our in-house team, it really has been an exceptional effort in delivering a fantastic product. These awards recognise the unique architecture and the exceptional offering, including prime office space, modern retail, exciting leisure facilities and best-in-class apartments. We are very proud to be delivering a world-class mixed-use space that will create an enduring legacy on the vibrant South Bank. The Triptych Bankside estate is one of the foremost schemes in London, reflected in the levels of interest from the UK and further afield. Innovative Appleby Blue Almshouse delivers a new benchmark for older people's social housing and services, keeping them part of the local community." 

Juraj Marko, JTRE London's managing director
Triptych Bankside 
Triptych Bankside comprises two residential towers (169 premium apartments) and an office tower (8,000+ sqm leasable commercial space). The former have spacious terraces with stunning views, 24-hour reception, private lounges, games room, sports facilities, private cinema, relaxation gardens, and 46 parking spaces; a co-working approach responds to flexible working with plug-and- play workstations and super-fast internet connections.
The office building has 'Excellent' level BREEAM environmental certification. The top three floors' terraces have inspiring city views, and floor-to-ceiling full-height glazing ensures healthy daylight. Concierge services, cafe, and bicycle-commuter facilities (storage, showers and changing rooms) are also available.
Designed by renowned London architects Squire & Partners, the project is located in a vibrant cultural area within walking distance of world-famous landmarks such as the Tate Modern, Shakespeare's Globe Theatre, and thriving Borough Market. The City of London financial district and iconic St. Paul's Cathedral are just a picturesque stroll across attractive Millennium Bridge. Triptych Bankside is a welcome addition to London's architectural ecosystem, with its undulating organic facades making a stunning impression.
The interior design was also awarded. "This has been an exciting three year project so far for us, setting the specification not only for the show flats but also the design style for the reception area, cinema, private lounges, gym and more. The show flats for Triptych were inspired by the local area, invoking the vibe and style of neighbouring landmark buildings such as Tate Modern and Shakespeare's Globe. We have commissioned bespoke art work and created custom-built furniture by House of Vara with a sustainable focus, which has been specifically placed in order for the occupant to enjoy the magnificent views of London's landmarks, such as St Paul's Cathedral," observed Lucy Powles, director of Cocovara Interiors. Show flats were also designed by interior architects such as Bergman & Mar and Angel O'Donnell.
One Triptych Place offices were fully leased shortly after completion. In the summer, the last tenant - Haleon global pharmateautical company - leased almost 3,000 sqm on five floors for 10 years. Other tenants include Digital UK telco, Quarto Group publishers, Corgan architects, Font climbing and bouldering centre, and The Swan at Triptych cafe. One Triptych Place is also the head office for JTRE London, the rapidly growing project developer. The innovative Art Academy London will soon open a cultural and educational centre at Triptych Bankside.
"From exceptional premium office space that meets contemporary needs to exciting retail and leisure spaces, we deliver world-class functions that will create a lasting legacy in the vibrant Southbank district. Triptych Bankside is one of London's most successful projects in recent years," said Nigel Fleming, JTRE London's joint managing director. "The Triptych Bankside experience has enabled us to deliver something equally as good - if not even better - in the near future."
Appleby Blue
Southwark's first new senior care home in decades will ease the shortage of social housing for older people: it will provide around 90 residents with low-cost sheltered care homes as part of the local community. Appleby Blue was created in cooperation with United St Saviour's Charity, which has been providing almshouse care for over 500 years. The project was designed by Witherford, Watson and Mann architects (winners of the prestigious Stirling Architecture Prize), and comprises 57 flats, gardens and attractive community spaces.
It sets a new standard for senior social housing and services, and was specially designed for today's generation of older people who want an active life in the city centre. It combines radical design with the latest assisted-living technologies, which enable independence even for those with emerging health problems. Appleby Blue is pioneering a new approach that facilitates living and working in a care home while remaining a valuable part of a thriving intergenerational community.
Individual features such as community kitchen, beautiful courtyard gardens, and numerous common areas have been thoughtfully designed to create a space where both residents of the home and the surrounding area can spend time, meet friends, and participate in diverse activities.
JTRE London
Developer J&T Real Estate (JTRE) entered the London property market in 2018 with the purchase of the Triptych Bankside project in the prestigious South Bank area. Construction of the multifunctional buildings with total commercial value of £450 million began in spring 2019. Appleby Blue's construction began in autumn 2020.
JTRE London was established in September 2019 and led by Juraj Marko – a JTRE project manager with over 15 years' experience with residential, office, hotel and industrial solutions. This branch has energetically grown to include seasoned professionals from leading companies such as Knight Frank, Berkeley Group, and Barratt London. Juraj Marko and Nigel Fleming - a former Knight Frank partner who was initially sales and marketing director - jointly lead the London branch. JTRE London continues to actively seek high-end, high-value projects in the city.