25 Jan, 2023
Triptych Bankside commercial building fully let as JTRE London inks landmark tenant deals and opens new UK Head Office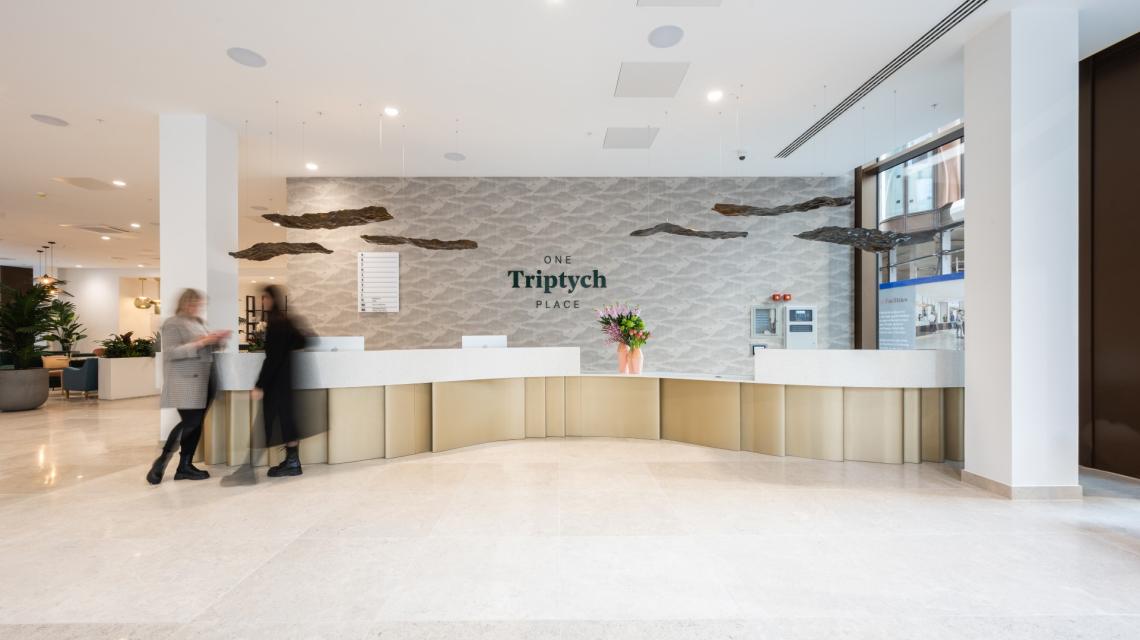 Following an exceptional year with sustained tenant demand, JTRE London has confirmed a landmark 10-year lease with a global pharmateautical company to take over 30,000 sq ft across five floors of the 68,000 sq ft commercial building at One Triptych Place, part of the game changing Triptych Bankside in SE1.
JTRE London has also confirmed additional new tenants including television communications company Digital UK, taking over 8,000 sq ft, and US architectural firm Corgan taking over 4,800 sq ft.
The new signings will complement previously announced tenants including publishing house
The Quarto Group (9,000 sq ft), indoor bouldering company The Font (7,000 sq ft), as well as independent coffee company 92 Degrees (2,000 sq ft).
JTRE London continues its journey of growth in the UK market by occupying 4,000 sq ft of space on the first floor as its new UK Head Office.
Nigel Fleming, Sales & Marketing Director of JTRE London, said: "The signing of one of the biggest global pharmaceutical companies, is testament to the design, location and quality of development at Triptych Bankside. From exceptional prime office space that meets the rigorous demands of today's occupiers, to exciting retail and leisure offerings, we are delivering a world-class mixed-use offering that will create an enduring legacy on the vibrant Southbank. The Triptych Bankside estate is one of London's succesful projects in recent years, and we are delighted to now also call it home for our new JTRE London Head Office.
Jack Beeby, BH2 "The quality and range of the amenity at Triptych Bankside was absolutely key in attracting occupiers to the building, providing a platform for them to recruit and retain the best talent for their business. The diversity of the occupiers, pharmaseautical, tech, and publishing, highlights the continued depth in demand for best in class assets."
Hunter Booth, head of the West End agency team at Savills, added: "The leasing velocity of Triptych Bankside shows that best-in-class office spaces in well-connected locations are outperforming the market. The current line-up of occupiers in the building is testament that it is getting the mix of ingredients right: Triptych Bankside gives its tenants everything they need on a day-to-day basis, as well as easy access to the wider amenity of London's vibrant Southbank."
Designed by internationally acclaimed architects Squire & Partners, the 68,000 sq ft, prime grade A commercial building is part of an award-winning £400 million mixed-use development. The scheme is made up of three distinctive sweeping towers, with 169 luxury apartments in two blocks, plus 87,000 sqt ft of office space and retail in a third. Its close proximity to the City of London, the West End and its location within one of London's most vibrant cultural districts makes it ideally situated.
The BREEAM 'Excellent' building is also at the forefront of 'smart building' capabilities with a WiredScore Platinum certification achieved, one of the few buildings in Europe to reach that standard.
Bh2 and Savills acted on the commercial deals. Retail leasing agents are Savills and BNP PRE. Lawyers Setfords London acted on the commercial deals. www.triptychbankside.com