01 Jun, 2023
ZFP real estate fund's portfolio grows with JTRE's L12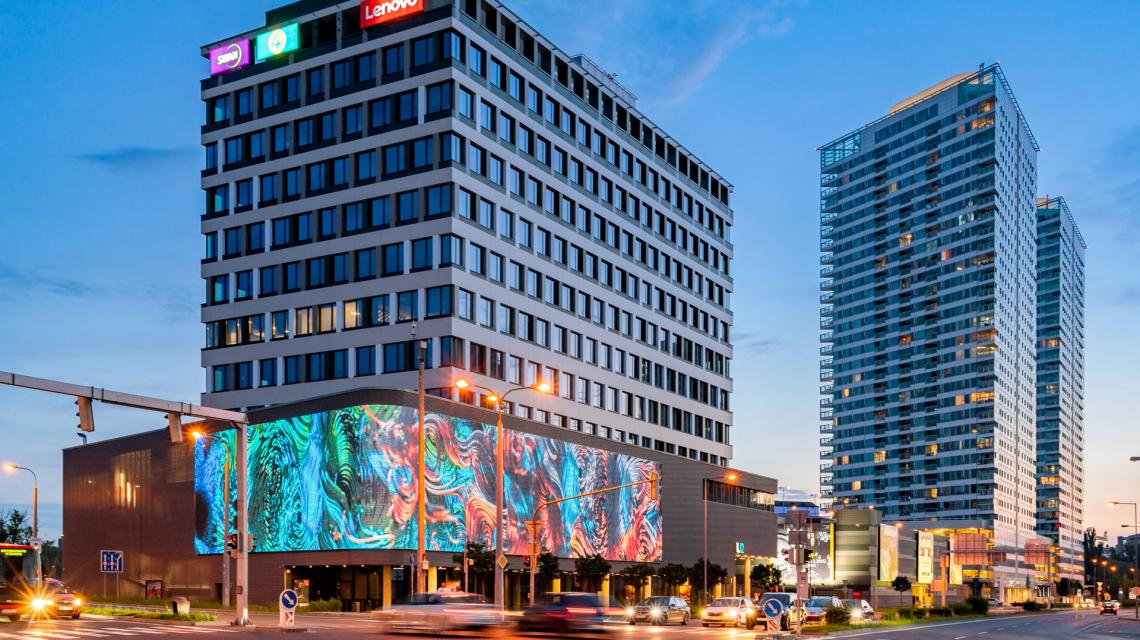 ZFP real estate fund (managed by ZFP Investments, investiční společnost, a.s.) has increased its real estate portfolio to include J&T Real Estate (JTRE)'s Landererova 12 office building, which is part of the new Eurovea City area on Bratislava's Danube embankment.
This latest generation technologically-advanced building is within walking distance of Eurovea shopping centre with excellent amenities, riverside relaxation zone, green park with water feature and relaxation areas, playgrounds, and a dog exercising area. It has a leasable area of 23,330 sqm on 16 above-ground floors and 376 parking spaces.
The busy Košická-Landererova-Prístavná road junction provides excellent connections to the main highways and city routes, and also provides exceptional visibility thanks to an unmissable large LED screen. The entrance lobby ceiling also features LED tech - thematically connecting the exterior and interior spaces. The European Labor Authority (ELA) - the first EU agency based in Slovakia - selected L12 as its HQ.
The building has a LEED Gold green certificate: it uses 32% less energy and half as much tap water as conventional buildings, and has e-car charge points, and showers and changing rooms for cycle commuters.
"L12 stands out for its international and domestic tenants, and its location near Eurovea shopping centre and the Danube with numerous recreational and cultural zones. This building perfectly complements ZFP real estate fund's office building portfolio."

Róbert Pružinský, chairman of the ZFP Investments board of directors
"L12 ensures working comfort, and harmony of efficiency, functionality and design in contemporary and flexible spaces that meet ESG principles. It's the perfect choice for companies that value being in the centre of the action at Eurovea City."

Peter Píš, JTRE's commercial director
Financial and tax consulting services were provided by KPMG Slovensko Advisory, technical and environmental consulting by Grinity, legal consulting by Wilsons, and transactional consulting by MiddleCap Advisory. "I appreciate our partners' provision of legal, financial, tax and technical-enviroconsulting services," adds Róbert Pružinský. RELEVANS provided legal support to JTRE throughout the transaction.
ZFP Investments is an independent investment company that is part of the ZFP Group. One of the founders is ZFP akademie, a.s., which joined forces with a Slovak investment company with multiple years of experience in creating and managing investment funds. It has good knowledge of the domestic market, knows clients' requirements and needs, and has built excellent relationships with institutional partners.
The ZFP real estate fund primarily invests in real estate assets, it aims to build and manage a diversified portfolio within real estate market segments. The fund seeks the stable and long-term appreciation of shareholders' funds.