24 Jun, 2021
Ružinov will enjoy a new park – thanks to Klingerka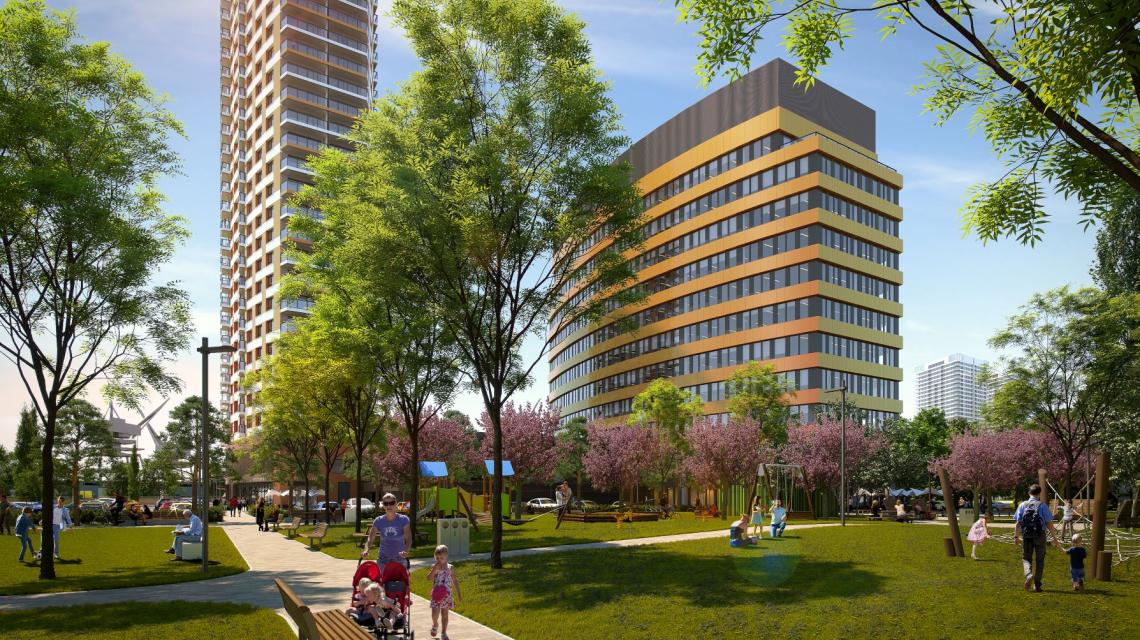 The Klingerka project will include the completion of a stylish office building and the unveiling of Slovakia's tallest residential tower, as well as an attractive new city park. Project developer J&T Real Estate (JTRE) will therefore deliver on its pledge that new homeowners at this Bratislava landmark will enjoy a large green sports and relaxation zone on their doorstep.
This new park - extending from the residential tower's car park to the family houses area - will become the centre of socialization for the area's new and existing residents on the border of Ružinov and the Old Town. The park will provide quality public for relaxation and sports.
"This welcoming area will cover 5,300 sqm – over half of which will be grassed and landscaped, with the remainder featuring a kids' playground, workout area, smaller area for ball games, and bicycle stand by the office building square," says JTRE executive director Pavel Pelikán.
GFI architectural studio's experienced team, having designed the overall Klingerka project, cooperated with award-winning (Czech Architecture Prize 2020) mmcité in designing the park. When composing functional and design elements, they focused on the requirements and needs of the diverse target community.
"We aimed to appeal to the Klinger area's original residents, as well as the boutique-type administrative building's employees, and especially the 35-storey apartment tower's homeowners," explains Klingerka project manager Peter Medľa.
Demand for public spaces - compensating for sedentary desk-based lifestyles by going outside and meeting friends - was further heightened by the pandemic, during which opportunities to relax and move were eagerly sought.
"It is amazing that the Klingerka Park project's timelessness meets these qualities. This aptly demonstrates the professionalism of the developer and architects who have created a project in the heart of Bratislava that provides above-standard housing and a quality exterior green oasis. It will be a great place to spend time and use the well-designed and high-quality urban furniture – perfect for relaxation as well as open-air home working," observes mmcité chairman of the board Aleš Bakoš.
The centrally-placed 380 sqm kids' children playground will have a 'spider web' play area, as well as an area with swings, weights, sandpit, play castle with slide, climbing walls, and rope bridge. Kid-friendly soft and safe impact surfaces are made from EPDM rubber granulate. The surrounding 470 sqm green area will feature comfortable benches for parents and grandparents. The architects also included a playground for ball games and a workout area on the corner of Súkennícká and Valchárská streets.
In addition to their practicality, the benches and other park furniture will also represent landscape elements and evoke positive emotions.
"The urban furniture, playground components, and sports area must be functional as well as attractive. Public space deserves quality design – because it's an interactive place where people and history meet," concludes mmcité chef designer David Karásek.