22 Nov, 2020
Nové Lido will enlarge Bratislava's city centre, new waterfront district is ideal for culture and congresses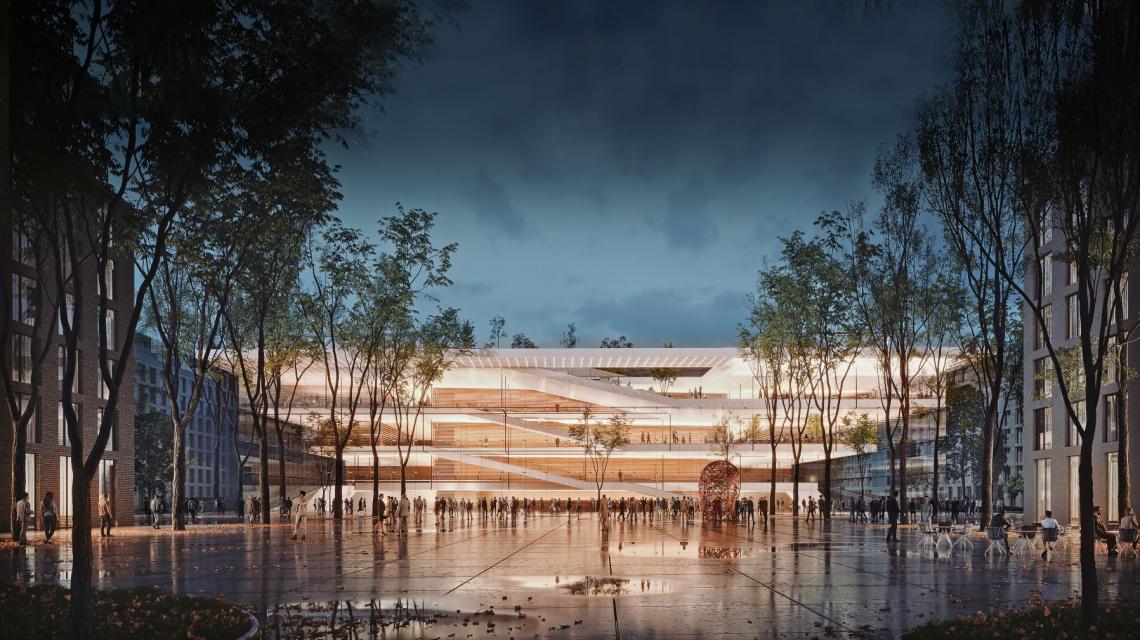 The developer J&T REAL ESTATE (JTRE) has long been working on a project for a modern multifunctional cultural and congress facility, in cooperation with experienced congress experts and key cultural promoters. JTRE evaluates the construction - with state support - of a new National Cultural and Congress Centre as one of today's foremost building projects. JTRE envisages the planned Nové Lido's central square, opposite the Slovak National Theatre, as the ideal location for such a prestigious social facility. The contemporary enlargement of central Bratislava on both banks of the Danube - united by a stylish footbridge - will create a cultural axis from the Old Town's galleries, museums, concert halls, and theatres to Petržalka.
"The National Cultural and Congress Centre is a once-in-a-generation project that will promote various functions, forms and genres in Slovakia. It will help regenerate the culture and tourism sectors which have been hit hard by the current crisis, and its multifunctionality will give the country a strong position on the global map of congresses. Being located in Bratislava's new city area near key cultural institutions and by the Danube, this project will gain international standing and truly represent Slovakia on the global stage," says Peter Korbačka, JTRE's Chairman of the Board.
The Nové Lido waterfront project will bring diverse opportunities for leisure, living, and much-needed new jobs to Petržalka – in an area long earmarked for the city's development on the Danube's right bank opposite the vibrant Eurovea downtown area. Bratislava's residents as well as local and international visitors will enjoy a relaxing stroll from the Old Town to the promenade, beach, main square, boulevard, and lush Nové Lido parks.
Riverfronts enrich lifestyles
The capital city's long-term development strategy recognises the Nové Lido area as part of the important wider city centre alongside the river. The Nové Lido urban study envisages the construction of a key social-use building where the main square meets the area's central park. The planned footbridge between Apollo Bridge and Old Bridge will connect the city's new squares in Eurovea City and Nové Lido – and thus unite the city across the Danube visually and functionally.
Similar to other capital cities, Bratislava's riverside acts as a magnet for numerous cultural and social institutions such as the National Theatre, National Gallery, Reduta Philharmonic, and National Museum. "With facilities, services, hotels, and city centre connections, the waterfront area is ideal for a National Cultural and Congress Centre. Visitors will easily discover our capital city's charms – with cultural sights and leisure options within easy walking distance from the proposed site," adds Pavel Pelikán, JTRE's Executive Director.
Excellent accessibility
Nové Lido will have fast and convenient connections across the city thanks to the planned tram line and transfer connection with the Einsteinova Street railway route. The new district will also have nearby motorway connections, rail links, and two international airports to provide seamless connections.
The Cultural and Congress Centre will have ample underground parking – leaving the central square vehicle-free for pedestrians to enjoy, and the Old Town is just minutes away across the footbridge. The project also envisages a new pleasure-craft harbour to encourage recreational boating on the Danube.
Slovak architects team up with international experts
The Nové Lido Cultural and Congress Centre concept was created by Compass - the successful Slovak architectural studio led by Juraj Benetin, who at the ASB Gala 2020 Awards was recognised as a leading figure in architecture and civil engineering. The proposed solution was consulted with the leading British studio Ian Ritchie Architects, and Efterklang - a renowned Scandinavian specialist acoustic studio for cultural events and spaces. International partners such as these benefited the project with their extensive experience from high-profile cultural and social constructions.
"The National Cultural and Congress Centre, as well as holding congresses, concerts and performances, should be a year-round attraction. Our Nové Lido concept creates a new and attractive public space – its openness and connection with surrounding area is supported by an architectural solution whereby the ground floor opens out into the attractive square, city boulevard, and park," explains Juraj Benetin. The designers also aim to transform the roof area into a city-centre amphitheatre: "The project enables the roof - that has stunning panoramic city views - as a residential terrace with stage and amphitheatre, which will stylishly complement the project's diverse range of spaces."
Multifunctional and flexible space
The centre's scope was thoroughly prepared in cooperation with local and international professionals with extensive congress and cultural event experience. "The high-standard of international congresses necessitates a centre with various flexible hall spaces to allow one large- or several smaller-events simultaneously. Separate entrances also enable respective event attendees to be appropriately channelled - which supports high flexibility for cultural and social events," says Pavel Pelikán.
Hence the Nové Lido Cultural and Congress Centre will have one main and two smaller halls - which can be divided - with three distinct access points. The large hall will have concert capacity for 5000 standing and seated attendees, with 3000 seated attendees for congresses, conferences, and seating-only concerts. It can be divided into two, three to four separate halls for events from 500 to 1,500 participants. Two other halls are designed for a maximum of 200 and 500 visitors, with several seminar rooms also available. The project also allows for the smaller exhibition areas favoured by congress partners. And as every event needs accommodation options, a convenient hotel by the attractive boulevard will also directly connect to the congress centre.
The centre's flexibility will support various functions, forms and genres - exhibitions, readings, improv theatre, films, premieres and festivals, large musicals, and concerts. It will also suite corporate events, balls, graduation ceremonies, and memorials. And the roof-top garden can host smaller, more intimate events.
Green project at one with the environment
The proposed Cultural and Congress Centre will prioritise environmentally-friendly construction. "We plan a low-energy building with green roof, reused rainwater, and only underground parking," says Juraj Benetin.
JTRE is preparing a high-function concept that draws on the building's location and surrounding environment on the main square in Nové Lido central park. The project unites the functional with public spaces, allowing flexible and multipurpose uses for culture, congresses, conferences, and social events. "For such a state-funded project of social significance, we will announce an international architectural competition. This will aim to deliver an outstanding project in an attractive location that will become synonymous with cultural excellence in Bratislava and boost the city's tourism potential. When the National Cultural and Congress Centre opens, Bratislava will be primed to assert tourism and congresses as a key business sector," concludes Pavel Pelikán.
JTRE wishes to apply for the announced state subsidy with the presented aim. Following completion, the National Cultural and Congress Centre is expected to be handed over to the state. In the case of interest, however, JTRE could also operate the project without additional financial contributions from the state.