12 Nov, 2021
JTRE: shaping space for living, work, leisure and entertainment for 25 years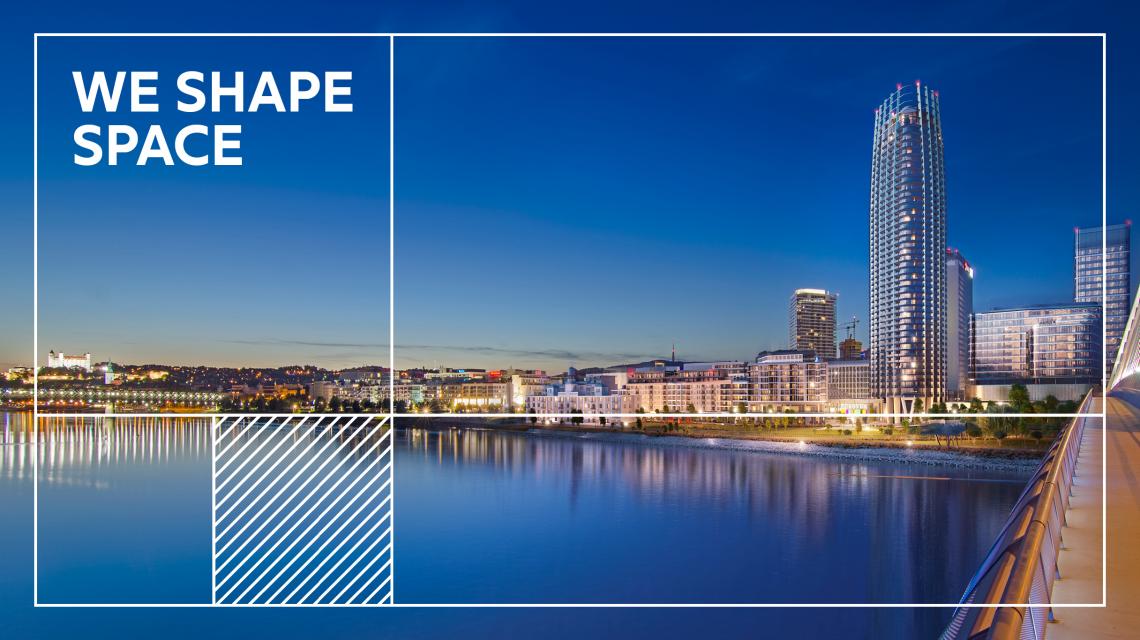 J&T REAL ESTATE (JTRE) celebrates 25 years in the real estate market. Thanks to projects across real estate segments, JTRE has become a leading urban developer in just a quarter of a century. The company focuses on the construction of complete urban neighbourhoods and the creation of living space that adds value and quality.
JTRE has led many of the largest and most ambitious developments that are enhancing Bratislava and making the Slovak capital a truly global city. The JTRE portfolio includes Eurovea City, River Park, Zuckermandel, Klingerka, and Triptych Bankside in Central London. These projects include the tallest residential towers, functional offices, popular promenades, pleasant parks, and attractive playgrounds.
"In over 25 years in the market, JTRE has become an urban developer that plays a leading role in shaping contemporary Bratislava. We aim to create optimal conditions for the development of cities and the satisfaction of residents. We are glad that our clients and partners perceive the JTRE brand as a reliable developer that will always deliver quality projects on time."

Pavel Pelikán, Executive Director of JTRE
JTRE projects house almost 5,000 families and households, with the Danube riverside area the key location in terms of  completed and planned projects. JTRE considers the waterfront as the Bratislava's most prized area, hence pride of place goes to our projects River Park, Zuckermandel, Panorama Towers, and Eurovea Tower - Slovakia's first skyscraper.
JTRE manages over 400,000 sqm of offices in Bratislava - the most in the city - providing workspace for thousands of employees. Functional and flexible premises at Westend Business Zone, Tower 115, River Park, Zuckermandel, Klingerka Offices, and Pribinova 19 are utilised by multinational corporations (such as Lenovo, Novartis, Johnson Controls, Generali, KPMG, ČSOB and Siemens), as well as domestic companies (such as Profesia, Poštová bank, and SPP). The first European Union institution in Slovakia - the European Labour Authority (ELA), selected ahead of the capitals of Bulgaria, Cyprus and Latvia – has moved into Landererova 12 in Bratislava.
JTRE projects always promote public spaces, such as the popular waterfront promenades at Eurovea City and River Park, Panorama Park, green parks at River Park, Fuxova and Klingerka, revitalized natural Rock Nose, and square with footbridge at Zuckermandel, fountains, playgrounds and sport areas. The city's public spaces are enlivened by various events and artworks such as River Park's Mythical Ship, Sharks, and Recycled Lion, Zuckermandel's Messerschmidt's character heads, and Circle Head on the waterfront.
JTRE has long been an avid supporter of culture, the arts, and education. We partner the Slovak National Theatre, the White Night Contemporary Art Festival, Days of Architecture & Design, and Tyršák city beach. Architectural awareness is supported by the Children and Architecture educational programme; and cooperation with universities encourages the professional growth of future architects, designers and civil engineers, who can try designing the interiors of the first Slovak skyscraper or the Danube footbridge. Spojená Bratislava (Connecting Bratislava) magazine showcases city life, tips and trips, insights and ideas by JTRE project creators, and the views of those involved in the city's creation, administration and development. As a responsible developer, JTRE also lends a helping hand in crisis situations, such as financial assistance to city districts during the Covid-19 fallout. Financial help enabled OZ Vagus civic association the weekend operation of the Domec Daily Centre for the homeless.
JTRE will also continue shaping space for living, working, relaxing and having fun. The development of the contemporary Eurovea City waterfront district continues apace. This will be followed by Nové Lido, which will complement and expand Bratislava's new centre on the Danube's right bank. Further attractive surroundings for the city's residents will be delivered by the extension of River Park and Klingerka, and the completion of  Ovocné Sady in Trnávka.
"We consider the expansion and development of the city centre on both sides of the Danube - connected by high-quality public transport - to be key for the further development of Bratislava. Such quality environment will put the city on an equal footing with other contemporary European capitals. Attractive embankments connect Bratislava physically and psychologically - so it becomes a full-fledged city on the Danube."

Pavel Pelikán, Executive Director of JTRE