10 Mar, 2023
Eurovea enlargement in finish: Slovakia's first skyscraper and largest shopping centre with scenic Danube promenade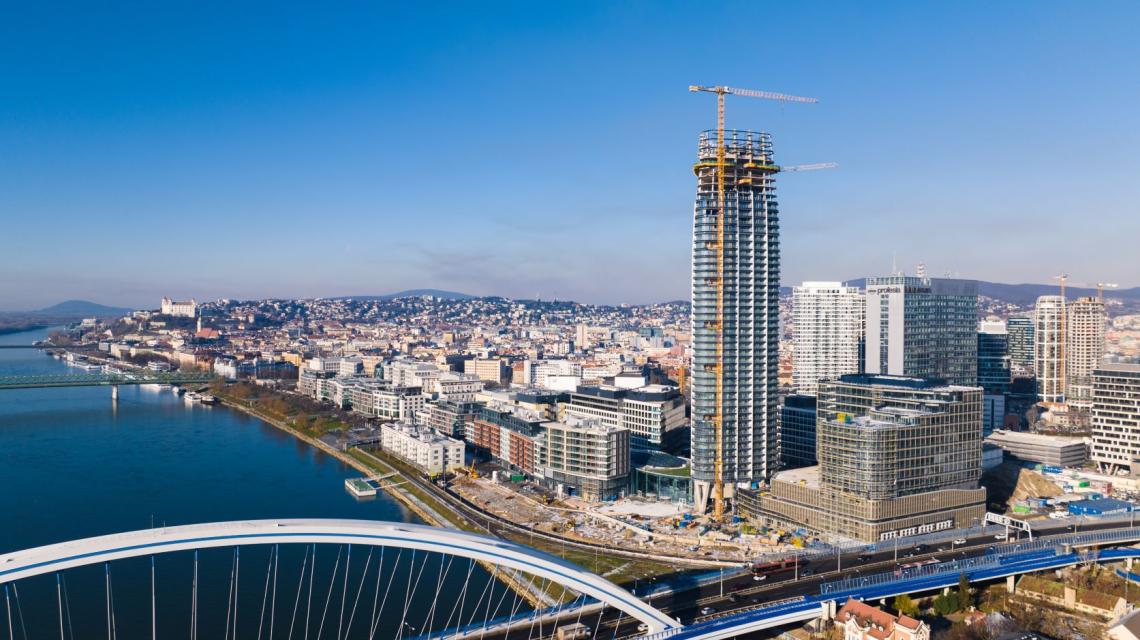 After over three years of construction, J&T Real Estate (JTRE) will start to hand over respective parts of the enlarged Eurovea area. The opening of new roads and cycle paths will be followed by the ribbon cutting for the bigger shopping centre and public spaces, followed by Riverside residences, Pribinova 34 and 40 admin buildings, green areas, and Eurovea Tower - the first skyscraper in Slovakia.
Construction of the already opened extension of Pribinova Street by Apollo Bridge with cycle path - and the road behind the Slovak National Theatre - comprises JTRE's beneficial public investment in connection with the Eurovea project. In addition to the mandatory municipality fee of EUR 4.2 million, JTRE has invested over EUR 34 million in public spaces and infrastructure. Coupled with ground remediation costs (necessary due to an environmental burden dating from the WW2 bombing of Apollo refinery), public benefit investments surpassed EUR 40 million.
These investments also include an extended promenade with waterfront park and new public square (where the Octahedral Body sculpture by Viktor Frešo - winner of the public tender - will be displayed), as well as the transformation of Pribinova Street into a contemporary city boulevard ready to incorporate a tram line. Public spaces were created in accordance with the concept of world-famous architect and urban planner Beth Galí.
"Public spaces for relaxation and active leisure, as well as green areas, are an essential part of the enlarged Eurovea, and we gave them special attention. So Eurovea stands out from similar projects in terms of the size and attraction of public spaces. The rebuilding of Pribinova Street will shift up to 80% of vehicle traffic underground, and thus create a boulevard with wide pavements and a safe cycle path (which will connect to Apollo Bridge and the international cycle path on the Danube's southern bank). Water features and plentiful greenery will ensure climatic well-being. A leafy avenue will provide shade to prevent pavement surfaces from radiating heat, and will create a pleasant environment for local visitors, employees, and residents. Convenient and safe pedestrian flow will also be supported by boulevard crossings as main foot routes, and seamlessly connect Bratislava's city centre with the Danube embankment."

Pavel Pelikán, JTRE's executive director
Public spaces will open up until this September, and both administrative buildings as well as the Riverside residential building should receive usage approval in summer of this year. Pribinova 34, which is directly connected to the shopping centre and has the BREEAM Excellent ecological certificate, has received the first award - CIJ Award Slovakia 2022 for the best office project under construction. Pribinova 40 near Apollo Bridge - with the highest BREEAM Outstanding sustainability certificate - has a unique design with various office configurations.
While only interior work remains underway on other buildings, Eurovea Tower - Bratislava's striking new landmark - still needs to complete the upper floor facade and crown off the architectural highpoint.
"Skyscraper construction is a unique multitasking procedure. While we were still pouring concrete on the upper floors, the middle floors partition walls were being built, and on the lower floors tiling, sanitary fittings, and interior items were being installed." 

Ľuboš Kaštan, JTRE project manager with responsibility for Eurovea's enlargement
This outstanding project - in an extremely attractive riverside location and in Bratislava's vibrant new contemporary centre - has attracted strong interest from buyers, as well as the general and professional public. "This is the highest interest we've seen in any of our residential projects -  Eurovea Tower and Eurovea Riverside have been selling like hot cakes since day one," adds Pavel Pelikán.
Eurovea extension milestones:                       
March 2019 - preparatory work - construction pit 300 x 100 metres wide and 14 metres deep
December 2019 - building permit, drilling starts of almost 1,400 foundation piles
March 2020 - selected general construction contractors VHS-PS, s.r.o., EUROVEA 2-STRABAG Pozemné a inžinerske stavitelstvo s.r.o., and SYTIQ a.s.
May 2020 - first crane, followed by another 14
September 2020 - concreting of 3-metre skyscraper base plate
February 2021 - completion underground floors, buildings take shape
July 2021 – completion of shopping centre framework
August 2021 – beginning of Pribinova Street reconstruction into modern urban boulevard
October 2021 - completion of Riverside shell construction
December 2021 - completion of Pribinova 34 shell construction
March 2022 - completion of Pribinova 40 shell construction
June 2022 - Viktor Frešo won competition to create visual artwork for the waterfront promenade
June 2022 - Eurovea Tower becomes tallest building in Slovakia (and still more floors to come)
30 November 2022 - Eurovea Tower topped out at 168 metres
February 2023 - approval process for main buildings
Eurovea 2 Project
Expansion of shopping centre - 25,000 m2 commercial space (together with current 85,000 m2)
Eurovea Tower - 46 floors, 168 metres, 407 residences
Eurovea Riverside - 8 floors, 97 residences
Pribinova 34 - 18,000 m2 leasable office and retail space, BREEAM Excellent certificate
Pribinova 40 - 22,000 m2 leasable office and retail space, BREEAM Outstanding certificate
Underground and above-ground parking – 2,245 spaces
Extension of Danube Promenade to almost 1 km - 25,000 m2 waterfront park, square with Octahedral Body artwork, new sports fields and playgrounds
Municipal Pribinova boulevard with new Eurovea Tower square and new leafy avenue
Completion - 2023