23 Aug, 2018
Landererova 12 - EUROVEA CITY's new admin building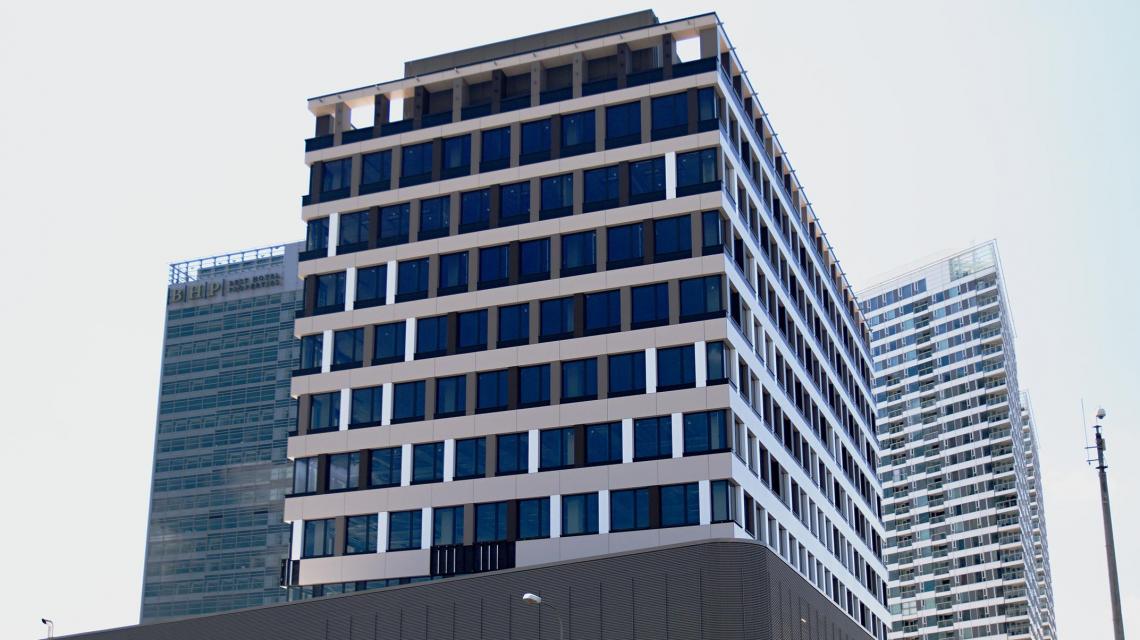 Construction of the new JTRE administrative project in the newly-emerging EUROVEA CITY is heading for a successful conclusion. The building, which brings 26,000 m2 of modern and flexible office space to Bratislava's centre, is expected to receive usage permission soon. Over half the office space at Landererova 12 has already been leased.
Lenovo and other leading IT and telecom companies have shown strong interest in being based at this exceptional location alongside the Danube riverbank - their employees will relocate to this new space from December 2018.
"Our 20 years' experience in building design and construction - for large international companies as well as ensuring office project occupancy – has demonstrated that we understand buildings and especially our clients' needs and expectations. We design our offices to meet the exacting requirements of Fortune 100 companies. This exciting new Landererova 12 project combines efficiency, functionality and design. So it's the perfect choice for companies that want to become part of the new EUROVEA CITY quarter and be based at a key Bratislava location," says JTRE Managing Director, Pavel Pelikán.
Project overview
The administration building's main entrance will be from Landererova Street. A distinctive architectural feature is the elegant facade, the earthy tones of which add a distinguished and airy impression. Tall, slender columns that support the above-ground structure are additional attractive features. In addition to functional urban design, Landererova 12's uniqueness will also be highlighted by a dazzling exterior LED wall.
Harmonious efficiency, design, comfort and sustainability
L12 meets demanding LEED Gold certification standards for green buildings. The first four floors provide parking for 359 vehicles, as well as facilities for cycle commuters such as bike storage, changing rooms and showers. The building has excellent connections to surrounding cycling paths towards Apollo Bridge, Ružinov radial roads, the Danube cycle route, as well as popular Šafárik Square.
Floors 5 to 15 are designated for office use – and are fully adaptable to lessees' requirements and visions. The 12th floor's panoramic 248 m2 terrace has a relaxation zone, and the fourth floor's terrace is 80 m2 larger.
The building has eight smart lifts that save both energy and valuable time. A café and 270-person canteen will also serve the building users' refreshment needs. Benefits of the new EUROVEA CITY quarter include the opportunity to enjoy a diverse range of restaurants and services at nearby business centres, and to dine amidst the attractive riverside surroundings of Eurovea Shopping Centre or  PANORAMA PARK - the first such business park in Bratislava.
EUROVEA CITY
Between Old Bridge and Apollo Bridge, on the scenic Danube riverside, the new EUROVEA CITY quarter is emerging. Its visionary architecture, numerous public spaces, and landmark 168-metre  Eurovea Tower – the first skyscraper in Slovakia – will rank Bratislava among the leading European cities. EUROVEA CITY is a dynamic retail, entertainment, residential and administrative quarter, which will feature new parks, squares, and sport areas – the ideal place to enjoy life and relax. The public areas have been imagined by world-renowned architect Beth Galí – combining visual concept, green spaces, and multiple mobility types. The area's overall transport concept includes JTRE's proposal to construct a new central tram circuit to connect the city's largest districts - Ružinov and Petržalka.