18 Dec, 2019
EPERIA attracts headline tenants for second stage as construction begins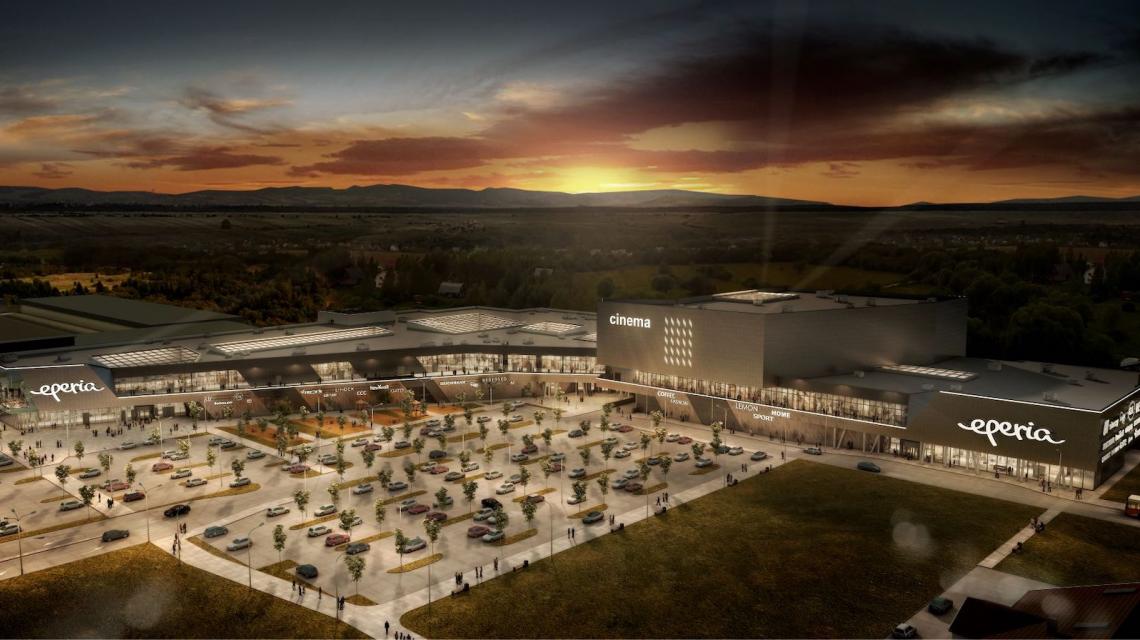 Having celebrated its second anniversary just last month, Prešov's EPERIA Shopping Mall - the city and region's number one destination for retail and fashion - has launched its second stage plan by attracting key tenants. Developer J&T REAL ESTATE (JTRE) will shortly commence construction, and in spring 2021 the bigger, better and brighter EPERIA will deliver even more fashion brands under one roof, plus additional eating and entertainment opportunities, as well as more car parking.  
In the second stage, EPERIA Shopping Mall's current 100 shops over 22,000 sqm will increase by a further 25 units and 11,000 sqm over three floors. The entertainment zone will include five-screen KINO STAR in a modern boutique style, fitness centre, and kids' play area. Eating options will be enhanced by the latest food court concepts, and a Burger King with drive-thru.
The great range of brands will be complemented by the Polish LPP group's 5,400 sqm of retail space for Reserved, Mohito, Cropp, House and Sinsay. "We appreciate and welcome that LLP - the Polish fashion market leader - has selected EPERIA's second stage to showcase its contemporary retail concepts. EPERIA has always sought to be the place to go for fashion in Prešov and the surrounding region.  With LPP, which over 25 years has developed into one of the leading fashion brands in Europe and the Middle East, EPERIA has become the destination of choice for fashion lovers," observes Peter Píš, JTRE's Head of Leasing.
"With the aim of presenting the widest range of fashion, we targeted a shopping centre that would correspond with our brand strategies. As a modern regional shopping centre with a great location, accessibility, and increasing service range, we're pleased that EPERIA has met our requirements. We're confident that EPERIA's visitors will be delighted by our wide-range of attractive products," said Patrik Čanecký, LPP Slovakia's Managing Director. LPP operates in thirty countries through over 1,700 shops covering more than a million sqm, with 59 outlets in retail centres across Slovakia.
EPERIA Shopping Mall is located in the Sekčov suburb of Prešov's main retail area, alongside brands such as Asko, Hornbach, Lidl, Kaufland, Fachmarktcentrum and Möbelix. Its excellent accessibility by public transport and car translates into EPERIA having a catchment area of 333,000 residents. The second stage will include a handy new public transport stop directly outside, improved access from Rusínska Road, and 200 more - mainly underground - parking spaces. Customers can look forward to almost 800 parking spaces.
"EPERIA's popularity and tenants' turnover has been steadily increasing since opening. Average daily footfall is currently 14,000, which we expect to grow further after the second stage opens. We welcomed a record-setting 32,000+ visitors for the second anniversary celebrations. These figures confirm the optimal mix of shops, services, entertainment, eating, and wide range of cultural and social events," summarised Pavel Pelikán, JTRE's Executive Director.
The success of EPERIA's first stage encouraged the owner to prepare for further expansion. "We're sure that EPERIA's award-winning design and quality, as well as prerequisites for the success of a regional retail centre - such as transport accessibility, parking space, and opportunities in this fast-growing shopping zone near the city centre - also attracted new tenants for the second stage," explains Vladimír Salkovič, Chairman of the Board of Directors of VSV Consulting, a.s., the centre's owner whose 100% shareholder is the real estate fund NÁŠ PRVÝ REALITNÝ o.p.f. – PRVÁ PENZIJNÁ SPRÁVCOVSKÁ SPOLOČNOSŤ POŠTOVEJ BANKY, správ. spol., a. s.
EPERIA Shopping Mall
This EUR 50 million modern regional shopping centre from JTRE opened on 24 November 2017, and is situated in an established retail zone in Prešov's Sekčov suburb. The centre's timeless modern design was envisioned by the DKLN architect studio. The project received an award for high quality from the Association of Building Entrepreneurs of Slovakia at the 23rd Building of the Year awards (2017). EPERIA was the first shopping centre in Slovakia and only the sixth globally to receive the prestigious BREEAM Excellent ecology certificate as part of BREEAM International New Construction 2016.
EPERIA has brought Prešov popular fashion brands such as H&M, C&A, Lindex, New Yorker, A3 Sport, Exi Sport, and CCC, as well as the new Fresh Supermarket concept, Slovak Post, Telekom, Orange and O2, branches of banks Slovenská sporiteľňa, Tatra banka and mBank, and lots more. There are also plenty of cafes and eating options such as Café Dias, La Cubanita, Sedliacky dvor, and the Šariš new gastro-pub. EPERIA's keynote feature is an attractive central square open across two floors which is ideal for cultural and public events, kids' activities, and free-time activities. There are 199 underground and 369 above-ground parking spaces, as well as facilities for cyclists. Free Wi-Fi is available throughout EPERIA and the centre is barrier-free. Opening hours are 09:00 to 21:00 daily.
Stage one:                                                         Stage two:
93 shops                                                             25 shops
21 970 m2                                                          11 000 m2
568 parking spaces                                            205 parking spaces