21 Apr, 2022
JTRE - shaping space for sustainable urban development for 25 years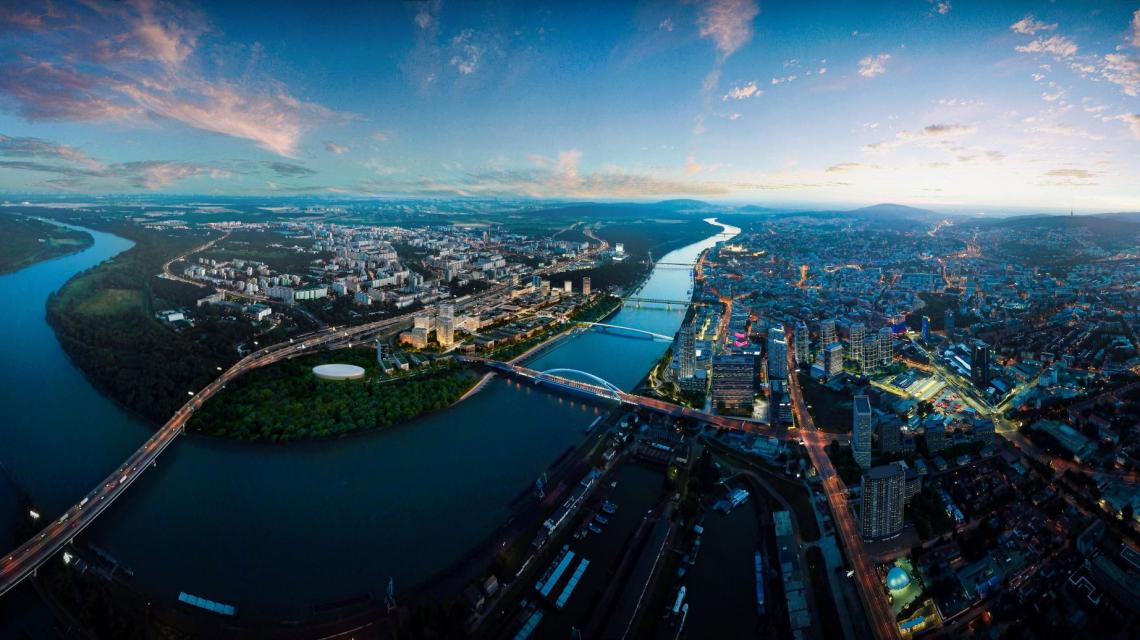 Over the past quarter century, J&T REAL ESTATE (JTRE) has become a leading city-building developer in the real estate market. Wide-ranging experience with multi-sector projects has resulted in full-fledged urban neighbourhoods – shaping space for living, working, relaxation, sport, and culture. Our major challenge for the future is appropriately responding to evolving urban living by consistently supporting sustainable solutions.
High-profile projects such as EUROVEA CITY, RIVER PARK and ZUCKERMANDEL have transformed long-neglected areas in Bratislava centre into full-value living space that embraces the concept of the '15-minute city'. JTRE's vision is to continue transforming hitherto disused sites into comprehensive neighborhoods that promote quality public spaces, abundant greenery, and great accessibility. This approach is our response to the key contemporary questions related to urbanism, the environment, the climate crisis, housing availability, and how we work.
"The trend is to look beyond individual buildings by creating full-scale high quality and sustainable urban environments. This can only result from an appropriate mix of functions and public spaces, with everything easily accessible while reducing traffic load. Rather than constructing solely office or business districts for commuters, we have long sought to create mixed neighbourhoods that actively support living, working, meeting, walking, playing sport and having fun, shopping, and eating. Our riverside projects have clearly demonstrated the success of this model in creating space for all-day living."

Pavel Pelikán, JTRE's executive director
Each city district has been planned to elegantly encompass parks, playgrounds, sport areas, and cycle paths, with good access to public transport and educational, cultural and medical facilities. "As a private developer, we also feel a city-building responsibility. So in addition to the mandatory development fees and taxes, we also contribute with significant investments in areas such as infrastructure and greenery," adds Pavel Pelikán.
Bratislava has a unique city centre development area on the Danube riverside. This contemporary city centre - which revolves around Milan Rastislav Štefánik Square, the Slovak National Theatre, and EUROVEA CITY district - has been taking shape on the river's left bank for several years. And further growth is planned directly on the opposite riverbank, in an area long designated for strategic development by the City of Bratislava. JTRE has been planning the NOVÉ LIDO district here in cooperation with leading architects and urban planners. This stunning district will expand, supplement, and continue Bratislava's city centre – with attractive public spaces and transport solutions connecting the city districts of Staré Mesto, Ružinov, and Petržalka. The new city parts straddling the river will be connected by a stylish footbridge that highlights Bratislava's Danube heritage, whilst also boosting local employment opportunities for residents of the city's largest urban conurbation:  Petržalka.
Just as EUROVEA enlivened the Danube promenade and brought accessibility and fun to the river, so JTRE's NOVÉ LIDO seeks to create and cultivate a recreational zone with a predominantly natural character and direct water access. The once legendary Lido beach with inspiring views of Bratislava's iconic landmarks could be restored, and a bay for water sports with small harbour created.
The carefully considered development of the city's downtown with the vitalisation of brownfield sites and other disused areas reduces urban traffic load and protects the landscape - an approach that includes constructing high-rise buildings served by good transport links. After the completion of the city centre, attention will naturally turn to other growth sites on the city's outskirts. In developing new districts, JTRE also considers public transport - especially rail transport -  as well as optimal conditions for cyclists and pedestrians.
Expectations for housing, work and leisure are constantly evolving – due to the ongoing development of society, technology and lifestyle, as well as ad hoc events. Responsible developers have a duty to appropriately respond to such changes through ensuring project multifunctionality and flexibility that reflect the changing needs of users and companies. In that way, buildings' life cycles are also extended and the sustainability of city development is strengthened. A contributory factor is also green buildings thoughtfully designed to embrace the environmental sustainability and energy efficiency required by the international BREEAM and LEED certificates.
"At JTRE, we've had one consistent objective over the last 25 years: satisfied customers who can rely on our residential, work, and business premises to be delivered on schedule and top quality. And we will continue to prioritise this goal into the future." 

Pavel Pelikán, JTRE's executive director