17 Jan, 2022
KLINGERKA - Bratislava's tallest residential building receives usage permit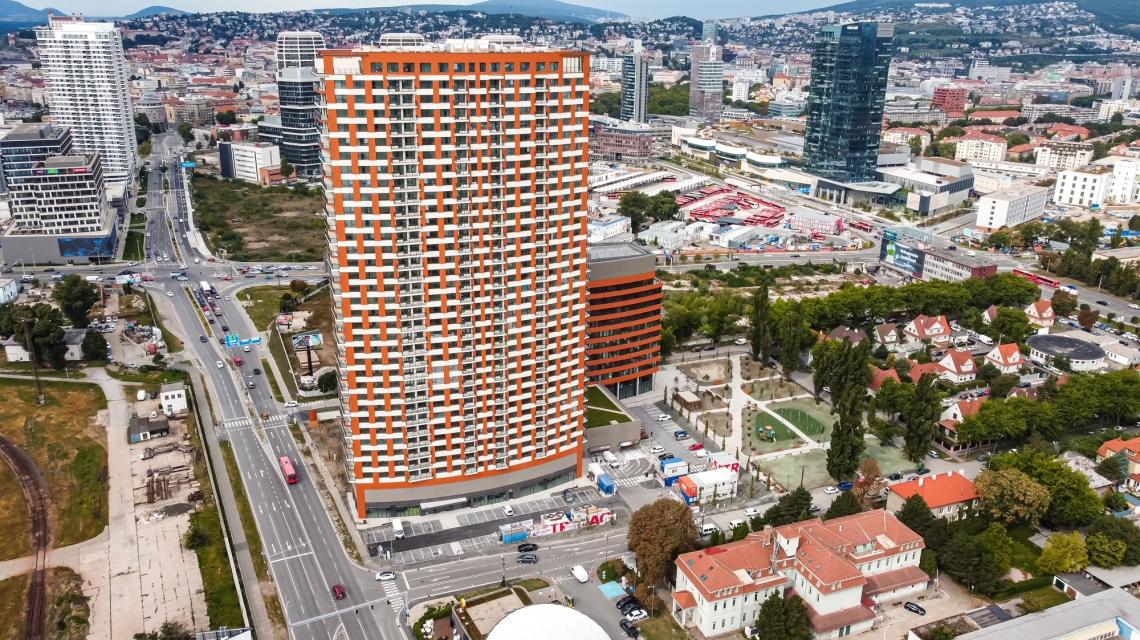 Developer J&T REAL ESTATE (JTRE) has successfully completed the almost three-year construction of Bratislava's tallest residential building. KLINGERKA has been issued a usage permit. New flat owners will soon be collecting their keys, and the adjacent park with children's playground, benches, and lots of greenery will come to life. Thirty-one months of construction have been officially completed, so KLINGERKA will invigorate the former jute factory area with new life and an exciting future.
Construction of 116-meter-high KLINGERKA began in March 2019 with the drilling of support piles, followed by the reinforcement and concreting of a two-meter thick base plate. Due to the technical requirements and construction specifications, KLINGERKA is unique in many respects. "Colleagues often had to develop and fine-tune completely new products with suppliers. After thorough testing, these prototypes were used for the very first time on the tallest residential building in Slovakia," explains Peter Medľa, JTRE project manager.
After completing the basement area and car park, work progressed from the third floor at a stunning pace of one floor every ten days. "We concreted the 35th floor's roof in November 2020, and prepared the building for the approval process by September 2021. In terms of the demands of this construction project, that's a very impressive result," says Martin Barila, construction manager from STRABAG Pozemné a inžinierske staviteľstvo s.r.o., which was the general contractor (residential part).
The project includes a multifunctional park the size of half a football pitch. This will become an attractive oasis and social feature, and serve as a natural connection between the original Klinger area and the residential tower located alongside the main road. The park was designed by the experienced GFI architectural studio team, which collaborated with the award-winning mmcité designers. The central feature is a new playground, workout area with machines, and a smaller ball game area. The car park's roof greenery also reduces noise, dust and temperature, retains water and, together with park plants, makes a major contribution to climate sustainability in Bratislava city centre.
In addition to the last administrative steps before handing over flats to the new homeowners, all minor interior and exterior work will also be completed. "There was strong interest in KLINGERKA living from the outset - because of great location, unique views, and practical layouts. We'll start handing over the almost 400 flats in a few weeks, and we'll do everything to ensure that the first residents can enjoy their new homes asap," says Ivan Bratko, JTRE's director of residential real estate sales. He adds that the very last four-room flats are still available and move-in ready - which is a big attraction for those currently seeking a new place to live.
And the transformation of the former industrial site into a new full-fledged urban space will continue. JTRE is preparing a continuation of the very successful and popular KLINGERKA residential project. "After project completion, KLINGERKA will comprise a natural transition between the emerging modern city centre and the quiet historic Klinger area abundant greenery, handy services, leisure opportunities. It is crucial that KLINGERKA also delivers a welcome mix of functions for the city centre's social functioning," says Pavel Pelikán, executive director of JTRE.
KLINGERKA residential building:
116 metres high
36 floors
380 two- to four-room flats
376 balconies
5 lifts
663 staircase steps from car park to 35th floor
678 parking spaces
425 m2 of retail space
6,300 m2 of greenery (park and car park's green roof)
2022 ribbon cut
Construction, including car park:
169 piles
3,200 tons reinforcement
28,000 m3 concrete
1.5 - 2 m thick base plate
16,800 m2 total facade area
7,032 m2 total window area
300 km electrical cables