20 Jun, 2022
Eurovea Tower: already Slovakia's tallest building – and another 40 metres still to come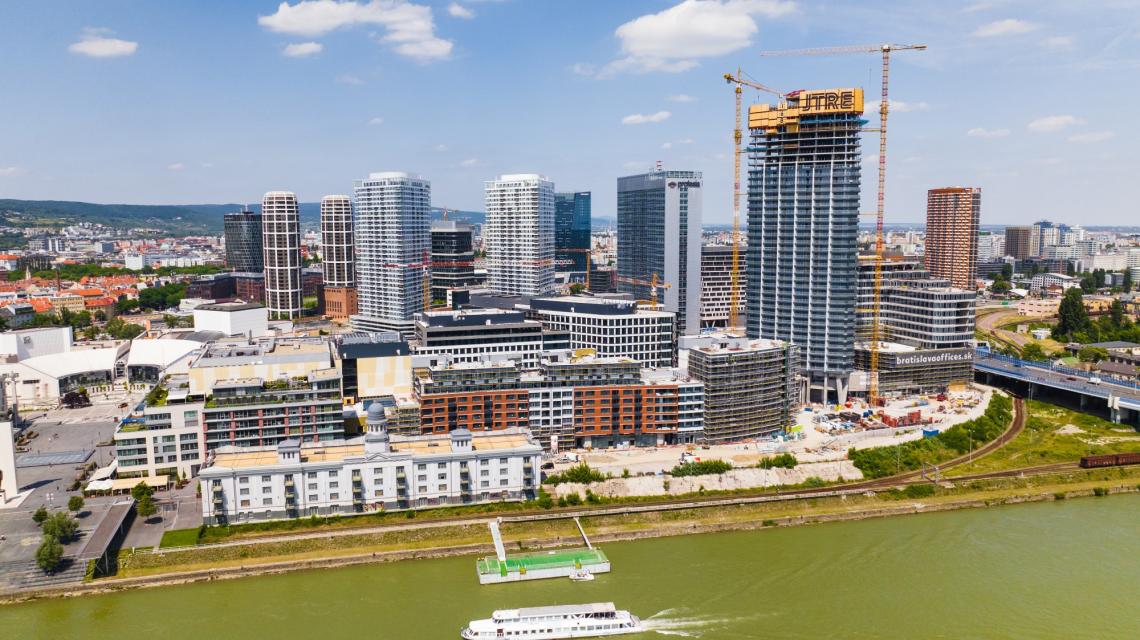 EUROVEA TOWER has reached 125-metres with the completion of its 38th floor - achieving the milestone of the highest building in Slovakia. By year-end it will have 47 above-ground floors and 168 metres – making it the country's first skyscraper (international criteria affirm 150+ metres as classifying as a 'skyscraper').
Construction of Eurovea's extension began at the end of 2019. Early 2020 saw the drilling of piles, the first crane was added in spring, and a key milestone came in September when the foundation slab of the skyscraper was concreted over three days. Subsequently, the tower began to take shape. After the completion of the base with 15-metre V-shaped supporting columns, the standard residential floors are added at an average rate of one every 11 days. The currently floor level has a digital display on the scaffolding.
"Eurovea Tower is already clearly visible on Bratislava's skyline. The nearby area has a grouping of 100- to 115-metre towers, constituting a compelling "115 wall". Coming months will see this 168-metre skyscraper reach above this wall, and define views of the modern city centre," says Pavel Pelikán, Executive Director of JTRE.
Since day one, the skyscraper has attracted strong interest both from the general public and buyers. With immediate and overwhelming interest in apartments, most are already sold. "I consider the most valued and most valuable Bratislava apartment living to be that connected to the water, namely the Danube embankment. Added value is walking-distance connections with the city centre's wide range of services, facilities, culture and gastronomy," adds Pavel Pelikán.
Jaro Vojtek - this year's winner of the Sun in the Net award - is filming a documentary about Eurovea Tower's construction. "The main character is the skyscraper - and how it is coming to life, and the people who build it - I focus on their work. I'm interested in how respective skills and professions are called for during the construction process, as well as the building's technical aspects. I learned about the importance of statics and precise calculations, as well as carpenters' intricate manual work. I'm fascinated by the coming together of respective components and procedures," said Jaro Vojtek in an interview for Spojená Bratislava magazine about the upcoming film.
In addition to the skyscraper, the EUROVEA 2 project also includes an extension of the EUROVEA shopping centre, the RIVERSIDE residence, the PRIBINOVA X and administrative buildings and underground garages. EUROVEA CITY's construction also includes an extension of the Danube promenade, the Pribinova boulevard, and additional new public spaces, playgrounds and sports grounds. The skyscraper's south square with riverside views will include a new visual work - for this JTRE launched a public tender in which 60 artists from Slovakia and the Czech Republic entered. EUROVEA CITY is becoming the thriving heart of Bratislava's contemporary centre.
Eurovea project 2
Expansion of shopping centre - 25,000 m2 of retail space (in addition to the current centre's 85,000 m2)
Eurovea Tower - 47 floors, 168 metres high, 400 residences
Eurovea Riverside - 8 floors, 97 residences
Pribinova X - 18,000 m2 of leasable office space
Pribinova Y - 22,000 m2 of leasable office space
Underground garages - 1,400 parking spaces
Extension of the Danube promenade - waterfront park 25,000 m2, new activities park and playgrounds
Pribinova City Boulevard - new square in front of Eurovea Tower and lines of trees
Connecting the promenade with a bus stop on Apollo Bridge
Completion - 2023